Get ready to learn about the five best ways to welcome the year 2024 in Ho Chi Minh City.
You could be part of the exciting countdown at Nguyen Hue Walking Street or savor the authentic tastes of Vietnamese street food.
The options for celebration are plentiful, ensuring a fun-filled to celebrate New Years Eve in Ho Chi Minh City In 2023.
From observing the stunning fireworks show from a rooftop bar to immersing yourself in the lively scene at Ben Thanh Market, you're guaranteed to start the new year with unforgettable memories.
So, let's familiarize ourselves with the colorful celebrations that this dynamic city presents.
Fireworks Spectacle at Landmark 81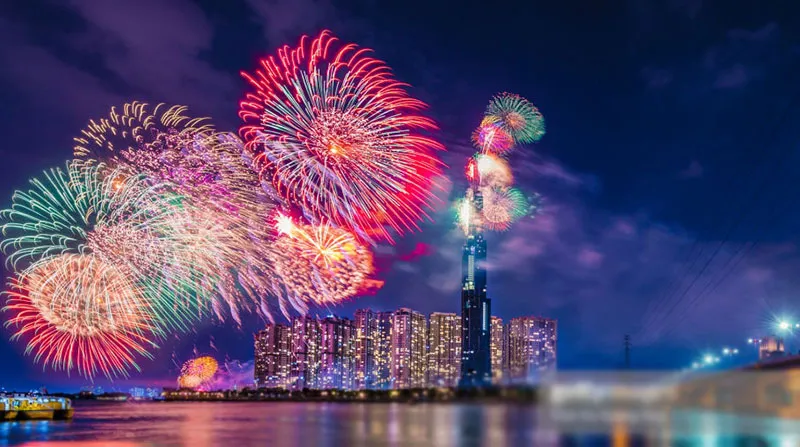 If you find yourself in Ho Chi Minh City during New Year's Eve, experiencing the spectacular fireworks show at Landmark 81 is a must. As the highest building in the city, it offers a memorable backdrop for the vibrant pyrotechnics. For the best viewing experience, think about securing a spot at one of the rooftop bars in the city.
However, be prepared for heavy traffic during this popular event, so it's wise to plan your outing in advance. Early reservations can help ensure an uninterrupted view of the dazzling display. If you prefer a different approach, consider a river boat cruise on the Saigon River. This option provides a clear sightline of the fireworks and the advantage of dodging the dense crowds.
No matter how you decide to ring in the New Year, thoughtful planning can help you fully enjoy your festive night in Ho Chi Minh City. As a local puts it, 'There's no better way to welcome the New Year than with the stunning fireworks at Landmark 81. Just make sure to plan your evening well in advance to fully enjoy the festivities.'
Nguyen Hue Walking Street Countdown Party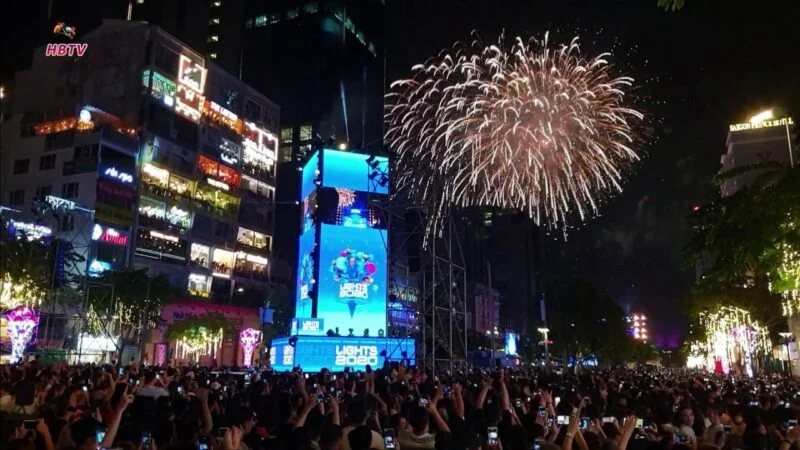 After absorbing the jaw-dropping pyrotechnics at Landmark 81, many people are inclined to keep the New Year's Eve festivities going. One popular spot for extending the night is the countdown party at Nguyen Hue Walking Street. This lively place metamorphoses into an energetic nightlife hub, replete with delightful street food and live cultural shows that will keep you engaged in anticipation of the new year's arrival. The area also doubles as an ideal location for New Year's Eve meals, thanks to the various stands serving traditional Vietnamese food.
In addition to the street party, another exciting way to welcome the New Year is by choosing to experience a Saigon River Fireworks Cruise. This offers you an unparalleled perspective to appreciate the stunning firework displays.
Now, let's consider the festive atmosphere of Ben Thanh Market.
Ben Thanh Market's Festive Vibes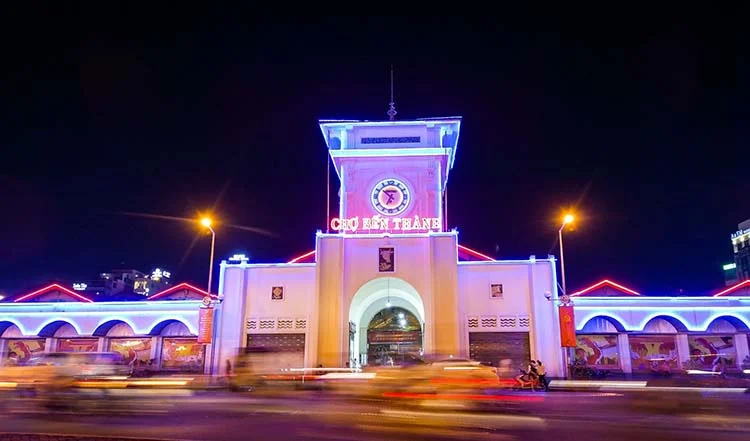 The festive cheer at Nguyen Hue Walking Street's spirited countdown party naturally flows into the vibrant hub of Ben Thanh Market. This lively nocturnal marketplace is a visual treat, showcasing a vivid spectrum of Vietnamese traditions and customs. As you stroll around, you'll witness traditional dance shows, a charming scene that adds a dash of cultural richness to the holiday atmosphere.
But any festivity is incomplete without food, right? Ben Thanh Market is a sanctuary for Vietnamese street food, presenting an enticing mix of culinary delights that will satiate your palate. Keen on immersing yourself more in the local culture? Join cultural workshops that give you an in-depth understanding of Vietnamese customs.
Even as the market's enthusiastic atmosphere gradually eases, the city's night continues to throb with liveliness. Get set to enjoy live music performances at Ho Chi Minh's popular bars next. As a local would say, 'In Ho Chi Minh City, the night is just as lively as the day!'
Live Music at Ho Chi Minh's Bars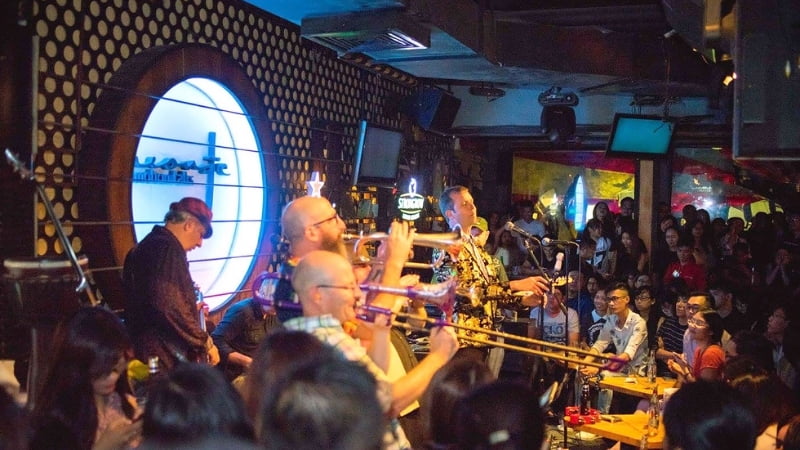 After immersing yourself in the lively ambiance of Ben Thanh Market, your next stop should be the local bars and clubs dotted around Ho Chi Minh City. The city's nightlife scene is buzzing with exhilarating live music that promises a fun-filled evening.
Imagine this – you're on a lively rooftop, moving in rhythm with the captivating tunes of a local band, the city lights glittering beneath you – it's a sight to behold! For those who prefer a more relaxed vibe, the city's jazz clubs offer a more refined experience.
Open mic nights are a fantastic opportunity to experience unfiltered, emerging talent. And if you're a fan of chilled-out vibes, you'll appreciate the acoustic sessions where artists perform stripped-down versions of popular tracks.
The music scene in Ho Chi Minh City is diverse, with everything from rooftop gigs to bustling bars featuring local bands. The city promises an unforgettable New Year's Eve filled with rhythm and energy.
As the famous songwriter Bob Dylan once said, 'Play it loud!' – and Ho Chi Minh City certainly lives up to this mantra.
Bar 22 Girl Bar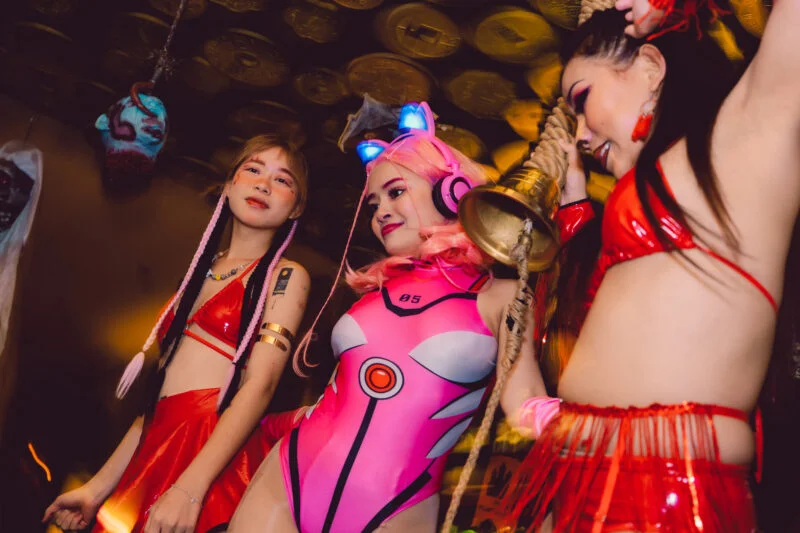 Thinking of a distinctive and fun-filled way to celebrate the upcoming New Year? Consider spending your night at Bar 22, a widely acclaimed girl bar in Ho Chi Minh City. This bar has made its name for its stunning bar girls who aren't only appealing and charming but also possess excellent customer service skills.
You'll get the opportunity to mingle with these beautiful ladies, engage in a friendly game of pool or test your skills at classic shuffleboard or electronic darts.
Bar 22 prides itself on its impressive range of imported spirits, catering to a broad array of tastes. Whether you have a preference for light beer, hot beer, mixed beer drinks, or rice wine, rest assured, Bar 22 has got it all.
With a high overall rating and positive feedback on the staff, ambiance, beverage selection, and pool table expertise, your New Year's Eve at Bar 22 promises to be a night to remember.
i) Features of Bar 22:
Facilities for pool, electronic darts, and shuffleboard
Extensive assortment of imported spirits
Regular special events and parties
ii) Advantages:
Outstanding customer service
Diverse selection of games and beverages
High ratings from satisfied customers
iii) Disadvantages:
Our girls are highly skilled at pool and will kick butt
Likely to be busy during special events
Conclusion
When the new year arrives, a significant portion of residents in Ho Chi Minh City engage in end-of-year celebrations. You might find yourself awestruck by the sky lit up with fireworks at Landmark 81, joining the vibrant countdown party at Nguyen Hue Street, soaking in the festive atmosphere at Ben Thanh Market, delighting in live performances at local hangouts, or chilling out at Bar 22 Girl Bar.
Each venue offers a memorable way to usher in 2024 in this vibrant city. Therefore, immersing yourself in the New Year's Eve festivities in Ho Chi Minh City is an experience not to be missed.