We understand your limited time, and the need for cramming is high whilst you visit! So here for you is our list of things to do in Ho Chi Minh City. As an exotic destination with unique sights and sounds, there's no better place for travelers looking to escape it all and immerse themselves in a new culture than this bustling city. From the ancient architecture to the vibrant nightlife, Ho Chi Minh offers something for everyone – and here are some of its top attractions you can't miss!
We appreciate you guys are not able to stay at the best girl bar in Ho Chi Minh 24/7 hehe so this post is for those who crave adventure, exploring the backstreets of Saigon will be a delight. Here you'll find relics left behind by centuries past, like colonial buildings and pagodas. You may even get lucky enough to stumble upon some hidden gems tucked away in alleyways – perfect for taking photos or buying souvenirs!
The streets also come alive at night when locals gather together for traditional street food markets where vendors sell dishes such as banh mi sandwiches and pho noodles. It's sure to tantalize your taste buds!
Finally, if you're after a bit of relaxation, then head over to one of the many breathtaking beaches around Ho Chi Minh.
Whether you want to lounge on golden sands listening to waves crashing against the shore or take part in water activities such as snorkeling, these tranquil spots provide an escape from everyday life that will leave you feeling refreshed and invigorated. So don't miss out – start planning your trip now!
Historical Sites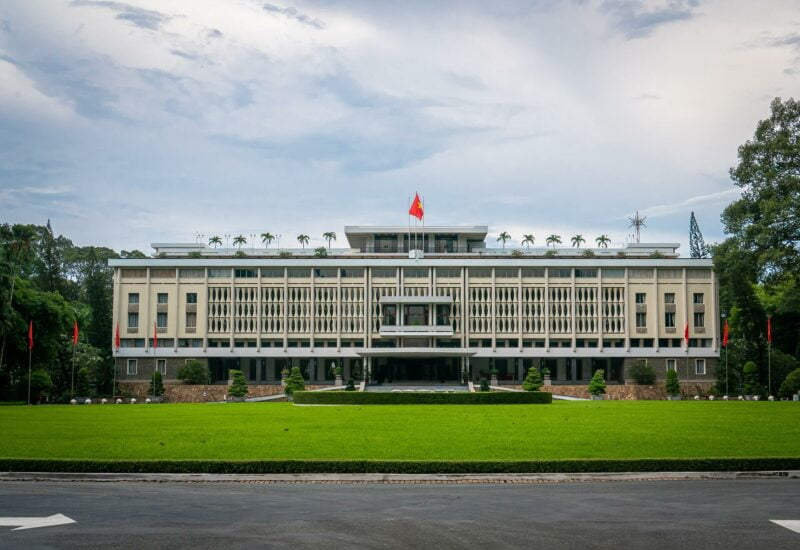 Strolling down Nguyen Hue Walking Street, the sights and sounds of Ho Chi Minh City come alive. Here lies the grand Saigon Opera House – a majestic monument to the French colonial period of architecture, built in 1900 and restored through painstaking effort in 1995. A short distance away stands Reunification Palace, originally known as the Presidential Palace.
This is where North Vietnamese forces famously declared Vietnam's reunification on April 30th, 1975. Further along, lies Giac Lam Pagoda, one of the oldest temples in Ho Chi Minh City, with its impressive bell towers and statues of Buddha that have been standing watch since 1744. Last but not least comes Emperor Jade Pagoda – a place of worship for both Buddhists and Taoists alike, boasting intricate decorations like no other temple in the city.
From these historical sites, it's clear that Ho Chi Minh has been an important hub for centuries. And now it's time to discover all the shopping destinations around this vibrant metropolis!
Shopping Destinations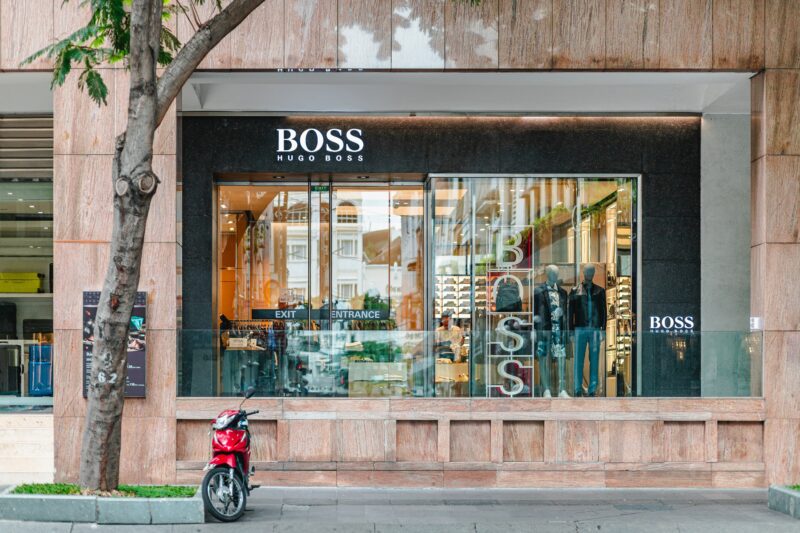 For those looking to indulge in a shopping spree, Ho Chi Minh City offers plenty of luxurious and unique experiences. From the iconic Vincom Center mall with its array of designer labels and best coffee shops to the lively Ben Thanh Market, where locals haggle over fresh produce and souvenirs – there is something for every taste and budget. Here are some of our top recommendations:
Vincom Center– The flagship store of this upscale retail complex features five stories packed with international high fashion brands such as Louis Vuitton, Prada, Chanel, Dior, and more.
Opera House Shopping Mall– This grandiose building houses an impressive selection of shops selling clothes, shoes, accessories, and more. It also includes a food court offering local delicacies.
Sightseeing Tours– If you're looking to explore the city's markets and stores in style, then join one of the many sightseeing tours available! Private or group tours offer guided visits to Saigon Square, Diamond Plaza, or any other popular market that catches your eye.
From luxury boutiques to bustling street stalls – Ho Chi Minh City has it all! Whether you're window shopping or splurging on something special – make sure you take advantage of this vibrant city's shopping scene!
With so many food tours and so many choices at your fingertips, prepare yourself for a truly unforgettable food tour experience. Ready for another adventure? Let's dive into Ho Chi Minh's cuisine and street food tour scene!
Cuisine And Street Food Scene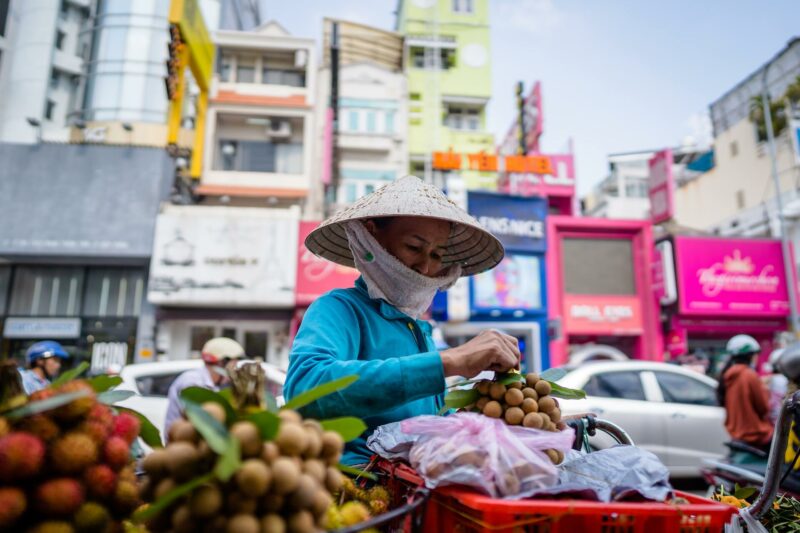 When it comes to food, Ho Chi Minh City is a paradise. From the tantalizing street snacks found in Bui Vien Street to upscale eateries conveniently located along the Saigon River Cruise, there's something for everyone.
Food tours are popular among visitors and offer an intimate exploration of local specialties like pho soup and banh mi sandwiches straight from the heart of the Mekong Delta.
No trip to HCMC would be complete without experiencing its unique nightlife rooftop bar scene. Whether you're looking for poolside lounges or traditional Vietnamese pubs, you'll find plenty of options scattered throughout downtown districts such as District 1 or 3. But if all else fails, simply head over to Saigon Notre Dame Basilica where live music often entertains locals after dark.
With so much on offer, travelers will quickly discover why HCMC has earned the title of one of Southeast Asia's most vibrant cities. As your day winds down and night takes hold, delve into a world of lively bars and nightclubs that capture the spirit of freedom unlike anywhere else.
Nightlife Experiences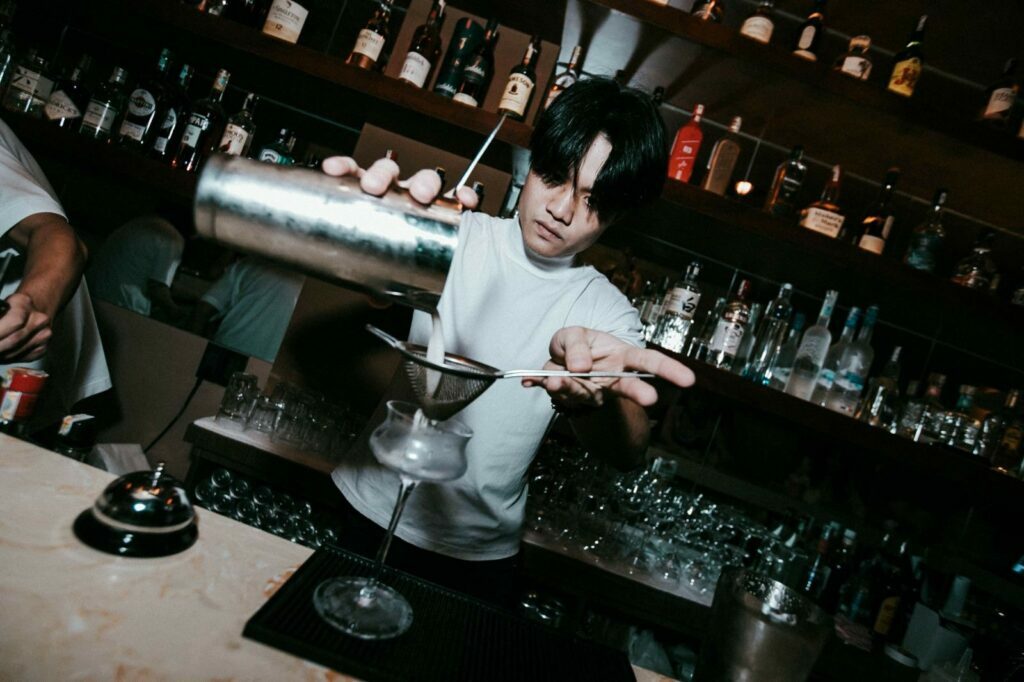 For an unforgettable night out, head to the Municipal Theater for a live show or performance. This iconic venue is known for its grand architecture and state-of-the-art stage production equipment.
It's also home to some of Ho Chi Minh City's most popular musical acts and theatrical performances. Alternatively, experience something unique at the Saigon Zoo and Botanical Gardens with shows featuring traditional Vietnamese water puppets at the Golden Dragon Water Puppet Theater.
If you're looking to explore more of the city during nighttime hours, there are plenty of city tours available that offer visitors a chance to discover hidden gems and uncover local secrets. From microbreweries to rooftop bars and clubs, they'll take you on a journey through all aspects of Ho Chi Minh City's vibrant nightlife scene.
No matter what your preference may be, there are countless options when it comes to experience Ho Chi Minh City after dark – from cultural attractions to lively entertainment venues and beyond. With so many choices available, you can create your own memorable evening in this bustling metropolis. Ready for another adventure? Next up: Instagrammable spots around town!
Instagrammable Spots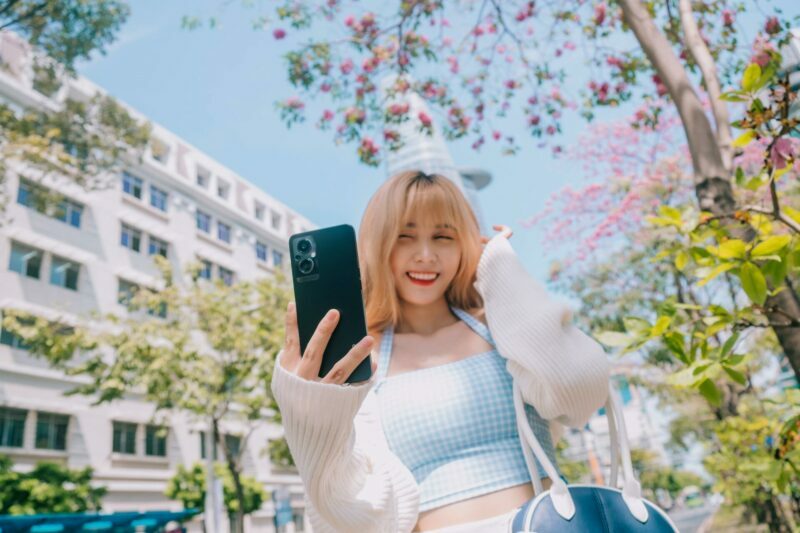 Ho Chi Minh City is a vibrant and colorful city with plenty of Instagrammable spots to capture your best memories. From the Fine Arts Museum's awe-inspiring art collection to Tao Dan Park's lush greenery, there are plenty of places that will make you feel like a professional photographer.
Saigon Skydeck is one such spot – an observation tower offering stunning views of the cityscape below. If you're looking for something more hands-on, photography tours offer personalized instruction from experienced photographers who can help you get the perfect shot.
For those seeking out unique backdrops, Ho Chi Minh City doesn't disappoint. The street food vendors in Chinatown light up the night with their lanterns; Notre Dame Cathedral glows against the starry sky, and Vietnam War Memorial paints a somber portrait of history. There are also outdoor markets where locals gather each morning to sell goods and chat about life over cups of coffee or tea.
Whatever kind of photo opportunity you seek, Ho Chi Minh has it all! With so many options available, capturing beautiful moments on camera is easy – just be sure to take some time to enjoy them too, as they happen.
Ready to explore even deeper? Authentic experiences await around every corner in this bustling metropolis – sightsee its most famous monuments here during the day before uncovering hidden gems at night!
Authentic Experiences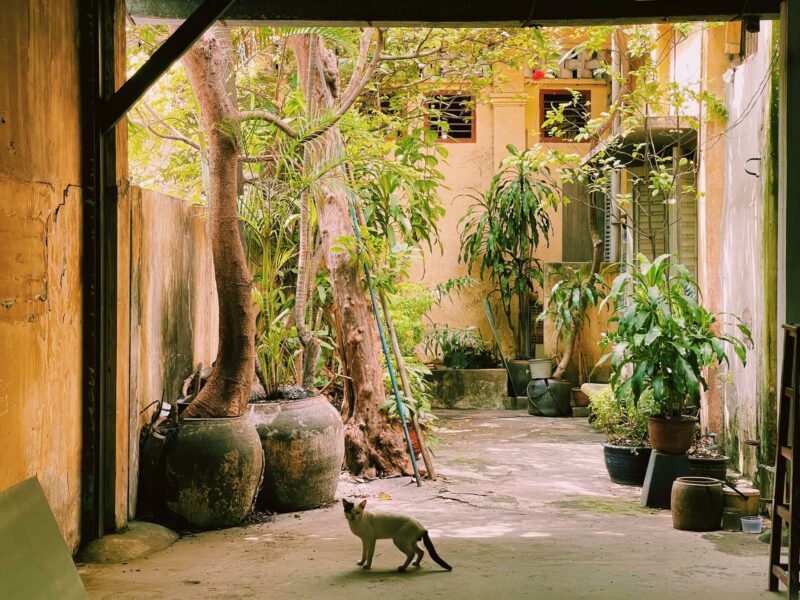 Exploring Ho Chi Minh City is an experience like no other, allowing guests to immerse themselves in the culture and history of the city. The Saigon River offers a chance for visitors to take in sweeping views of the skyline, while Thien Hau Temple provides a unique glimpse into traditional Vietnamese religious practices.
For those interested in exploring more of the city's past, there are plenty of various history museum tours available, as well free guided tour such as historical and cultural tours that explore many different aspects of local life.
Another great way to experience HCMC is through its vibrant street food scene. Visitors can indulge their taste buds with some delicious dishes from vendors around town or treat themselves to drinks at one of the many rooftop bars located throughout the city center.
Additionally, tourists may also want to check out nearby markets where they can shop for souvenirs or simply observe how locals go about their daily lives.
Finally, taking time to visit various landmarks scattered throughout Ho Chi Minh City will provide travelers with a deeper understanding of Vietnam's tumultuous past. From war memorials and monuments to museums dedicated to preserving wartime artifacts, these sites offer insight into what this historic place was once like during times of conflict.
War Remnants Museum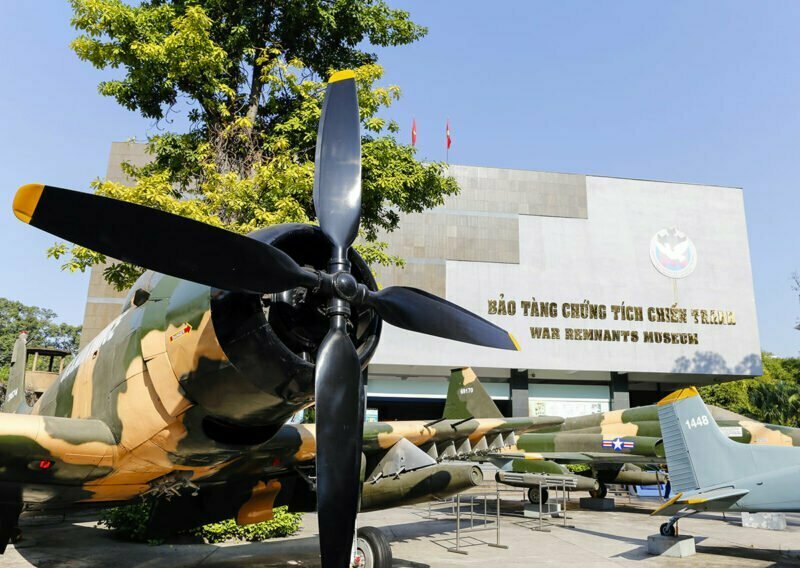 The War Remnants Museum in Ho Chi Minh City is one of the most visited tourist hotspots, with over 600,000 visitors each year. This museum offers a unique and authentic experience for travelers looking to learn more about Vietnam's war history.
From walking tours to day trips that provide an up-close look at artifacts from the conflict, it's no wonder why this museum has become a must-see attraction.
Upon entering history museum, you are welcomed by a series of displays highlighting the physical destruction caused by decades of fighting. The exhibits offer insight into how civilians were impacted during times of unrest and hardship. You can also find information on the international involvement in the conflicts between 1954 and 1975.
For those wanting to get even closer to Vietnam's past wars, there are guided tours available that cover all aspects of the country's tumultuous history. These tours help bring stories from both sides alive as they explore battlefield sites, memorials, and other landmarks related to military action throughout the region.
With knowledgeable tour guides who share personal accounts along the way, these experiences often leave visitors with a newfound appreciation for Vietnamese culture and resilience.
This compelling destination provides something for everyone; whether it be first-time or repeat visitors looking for educational opportunities or just another unique part of their adventure through southeast Asia – it's easy to see why War Remnants Museum is one of Ho Chi Minh City's top attractions! Moving onto Notre Dame Cathedral…
Notre Dame Cathedral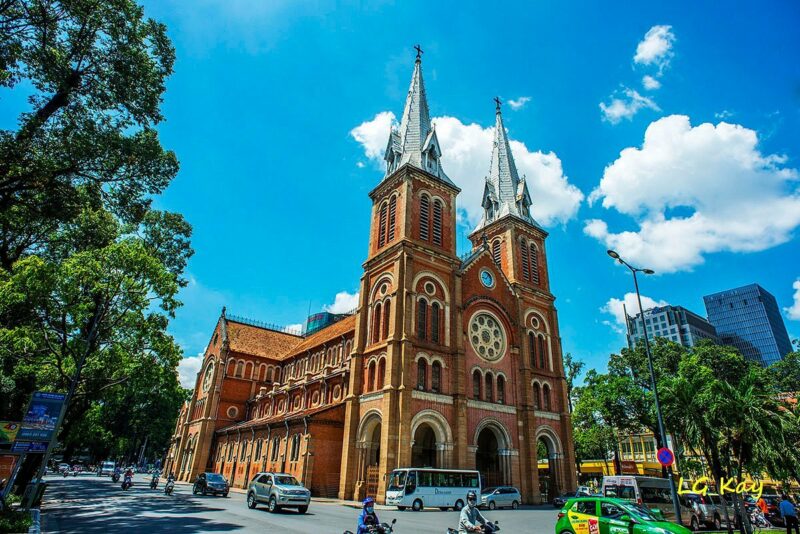 Ho Chi Minh City's Notre Dame Cathedral is a must-see for any visitor to the bustling city. It stands tall as an ode to French colonial rule and has remained relatively unchanged since its construction in 1880. Here are some of the best ways to experience this iconic attraction:
Take a guided tour: Taking a guided tour inside the cathedral can provide visitors with an enriching and informative experience, complete with stories about Ho Chi Minh's history and rich culture. Budget travelers will appreciate that many tours offer free or low-cost admission fees.
Enjoy family-friendly activities: Visitors of all ages will be able to enjoy the sights and sounds of Notre Dame Cathedral, from attending Sunday Mass services to taking part in interactive tours designed for children. There are plenty of activities suitable for both adults and kids alike!
Visit during special events/festivals: Throughout the year, various festivals take place at Notre Dame Cathedral, where visitors can witness traditional music performances and religious ceremonies. This is definitely one way to get an authentic taste of Vietnamese culture while visiting Ho Chi Minh City!
Notre Dame Cathedral is sure to leave lasting impressions on anyone who visits it – it truly symbolizes not only Vietnam's turbulent past but also its bright future ahead. Moving onto Saigon Central Post Office, another major tourist destination located nearby…
Saigon Central Post Office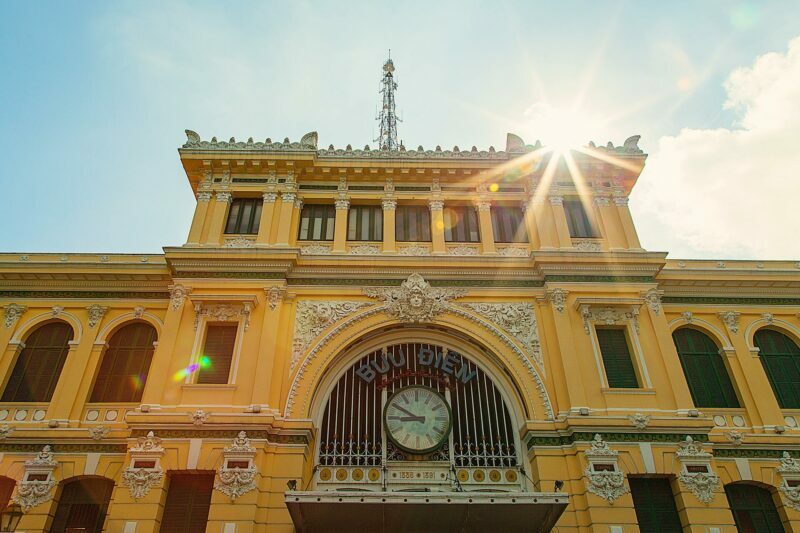 Leaving the grandeur of Notre Dame Cathedral behind, we now turn to a more modern marvel in Ho Chi Minh's city: The Saigon Central Post Office. Located conveniently near other cultural attractions too, such as the Reunification Palace and Ben Thanh Market, this building is a must-see for any visitor.
Constructed by French architect Gustave Eiffel, who also designed Paris' eponymous tower, this post office serves both as an important historical site and a fully functioning central post office for today.
As you enter the building, you are immediately struck by its beauty; adorned with stained glass windows and intricate wood carvings that line the walls and ceilings, it feels like stepping into another world.
While admiring these features of yesteryear, don't forget to look up at the famous clocktower outside—it has been ticking away since 1891! Many visitors take advantage of the opportunity to send postcards from within the mailroom itself; there's nothing quite like sending your loved ones something special directly from Vietnam!
The presence of this building stands as a reminder of what can be achieved when freedom reigns supreme — even after years under oppressive regimes, Ho Chi Minh City still shines through its rich culture and history. As we move on to explore one of many symbols of independence in the city—the Independence Palace—we remember how far people have come despite their struggles throughout history.
Independence Palace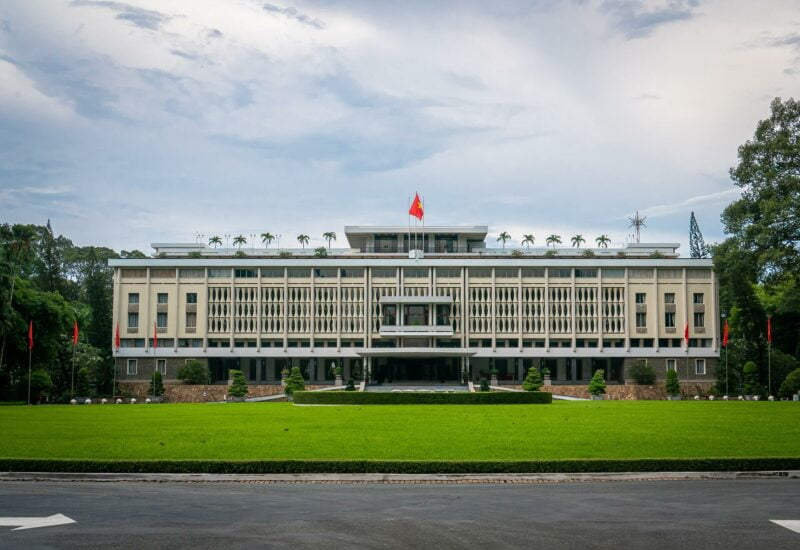 The Independence Palace stands tall and proud in the heart of Ho Chi Minh City, a reminder of Vietnam's hard-earned freedom. It was here that the long struggle for autonomy ended when President Duong Van Minh surrendered to North Vietnamese forces in 1975. This building is more than just a relic of history; it's also a living testament to the courage and determination of an entire nation.
Visitors can gain insight into Vietnam's past by exploring the palace grounds, which are open from 8:00 am to 5:00 pm daily. Inside, they'll find several rooms dedicated to different periods in the country's history, along with artifacts from various wars.
There are also detailed explanations about how these events shaped modern-day Vietnam. The courtyard outside contains tanks and other military equipment used during wartime.
But perhaps most striking is the view from atop one of its balconies – sweeping views across all of Ho Chi Minh City beckon visitors to take in their surroundings before continuing on their way.
As one looks out at this vibrant cityscape, they're reminded once again not only of what has been achieved but also of what lies ahead – a future full of hope and promise. With that thought lingering in mind, we journey onward toward our next destination – Ben Thanh Market.
Ben Thanh Market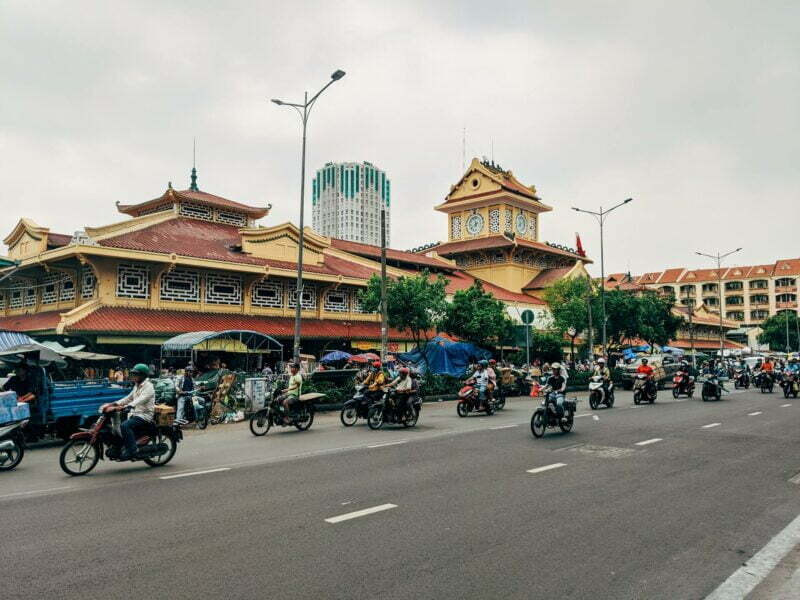 The next stop on your tour of Ho Chi Minh City must be Ben Thanh Market. This bustling bazaar is a shopper's paradise, and it offers everything from souvenirs to clothing to seafood – all at great prices. Here are some highlights not to miss:
The fresh produce section, where you can sample the local fruits and vegetables before buying them.
Crafts stalls selling handmade jewelry and artwork made by talented artisans in the area.
A variety of street food stalls serving up delicious dishes that will tantalize your taste buds.
As you explore the market, keep an eye out for vendors selling traditional Vietnamese items like conical hats, silk scarves, lacquerware, and more. There's something here for everyone!
You'll also find plenty of restaurants offering tasty treats like pho noodles or banh mi sandwiches. Don't forget to haggle with vendors for the best price! Afterward, take time to relax in one of the nearby parks or enjoy a stroll along Nguyen Hue Walking Street.
From exploring this vibrant marketplace to discovering hidden gems around every other street corner here, there's no shortage of things to do in Ben Thanh Market. With so much to offer, it certainly lives up to its reputation as one of Ho Chi Minh City's top attractions.
Ready for another exciting adventure? Then head over to Bitexco Financial Tower, where you can experience breathtaking views of the massive city-scape below…
Bitexco Financial Tower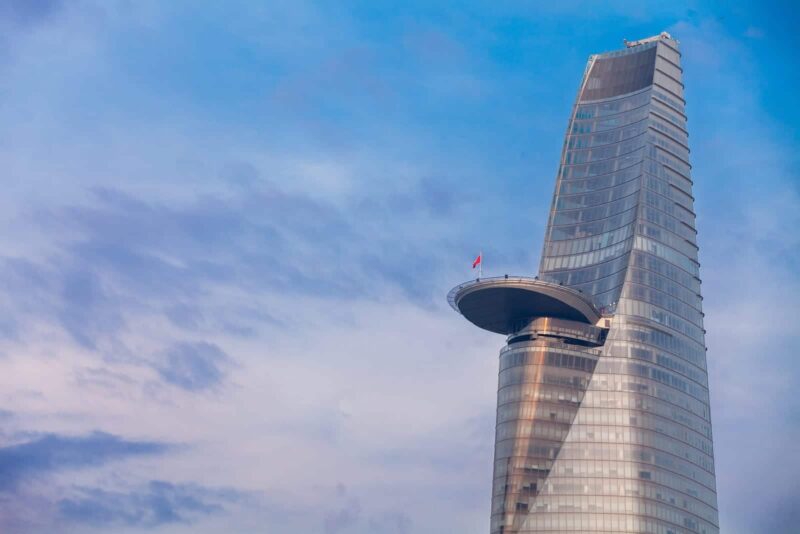 Looming over Saigon's skyline is the iconic Bitexco Financial Tower. The 68-storey skyscraper, built in 2010, stands 262m tall and offers stunning panoramic views of Ho Chi Minh City from its observation deck on the 49th floor.
Visitors can marvel at this modern feat of engineering while watching a light show that illuminates the tower nightly.
The plaza surrounding the tower is home to many bustling restaurants and bars, making it an ideal spot for people-watching or grabbing a bite before heading up to the viewing platform. Inside, there are plenty of shops where you can pick up souvenirs as well as world-class restaurants offering delicious cuisine.
Bitexco Financial Tower also features Vietnam's first 4D theatre, which showcases films about local culture and history. Watching one of these movies gives visitors an immersive experience of life in Ho Chi Minh City – something they won't soon forget!
As you leave this impressive sight behind, transition your thoughts to Jade Emperor Pagoda, another must-see destination during your stay in Ho Chi Minh City.
Jade Emperor Pagoda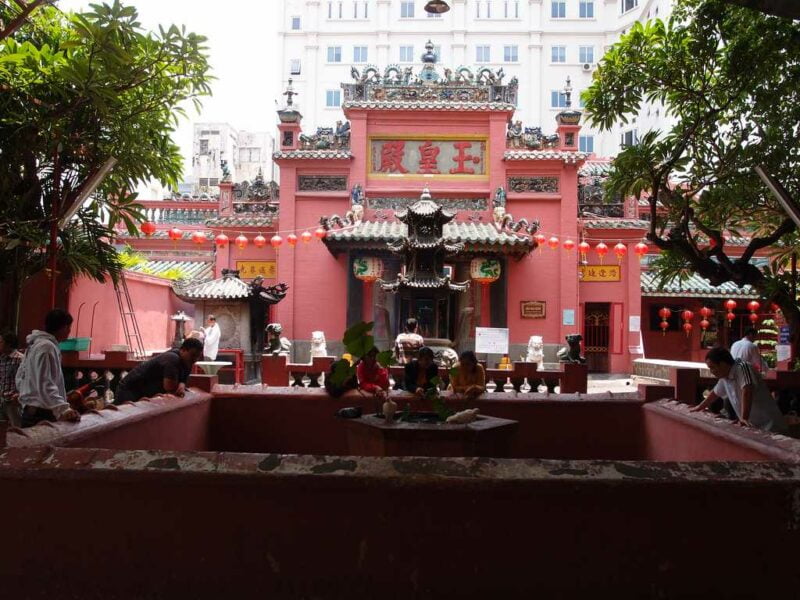 The Jade Emperor Pagoda is a majestic structure that symbolizes freedom and liberation from the oppressive past. Built-in 1909, it stands as an iconic representation of Ho Chi Minh City's resilience. Its golden spire pierces through the sky with its bright hue, illuminating hope throughout the city.
Inside the pagoda lies a captivating collection of statues and shrines dedicated to gods and goddesses of Buddhism, Taoism, and Confucianism. These monuments tell stories of faith and devotion that have been passed down through generations for centuries.
Visitors can explore each shrine individually or take part in traditional ceremonies conducted by monks within the temple walls.
What makes this place truly remarkable is how it has stayed true to its roots despite rapid modernization around it. The locals still revere it as a sacred place where they come to seek blessings from their ancestors who fought for independence all those years ago.
As you walk out of the pagoda grounds, there's a sense of renewal – one that leads into Pham Ngu Lao Street – another popular destination on your Ho Chi Minh City journey!
Pham Ngu Lao Street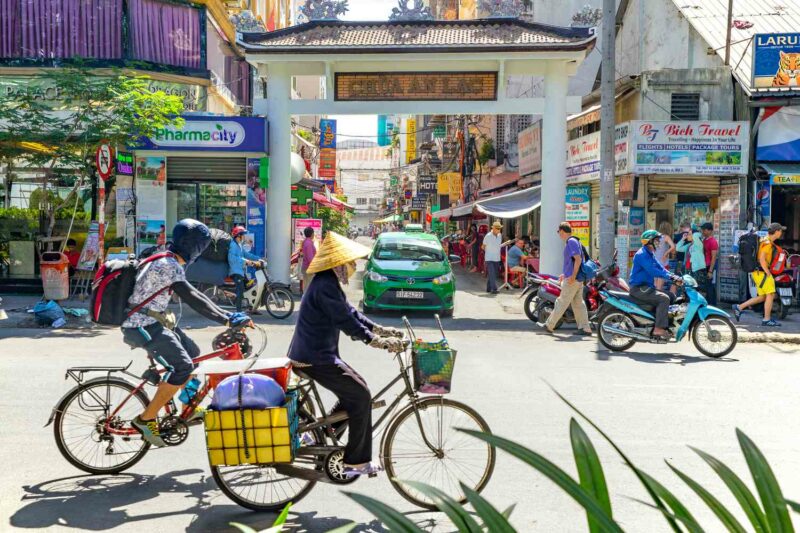 Pham Ngu Lao Street is a popular walking street and one of Ho Chi Minh's most popular attractions. This bustling street is known for its vibrant nightlife, lively markets and wide range of food stalls. As you explore the area, it's easy to get lost in the hustle and bustle that defines this part of the city.
The atmosphere in Pham Ngu Lao Street can be pretty exciting at times as people from all walks of life come together in search of a good time. Whether you're looking to shop or soak up some local culture, there's something here for everyone!
You'll find an array of shops selling clothing, jewelry, souvenirs, and more while vendors offer delicious snacks like banh mi sandwiches and phở noodles. There are also several bars where guests can enjoy a cold beer or two while listening to live music performances.
When visiting Pham Ngu Lao Street, it's best to go with a plan but be willing to let loose and explore whatever catches your eye. It may take multiple visits to fully appreciate everything this unique destination has to offer – so don't hesitate to return again soon!
With its eclectic mix of sights, sounds, and flavors, Ho Chi Minh City truly comes alive when you experience it through the lens of Pham Ngu Lao Street. Moving on from here opens up countless opportunities for exploration, allowing visitors to dive deeper into Vietnam's rich cultural heritage.
Tours And Activities
For visitors to Ho Chi Minh City, there are many tours and activities available that will provide an immersive experience of the city's culture. From historical sites to dining experiences, travelers can find something for everyone here.
The Cu Chi Tunnels are a must-see attraction for anyone visiting Ho Chi Minh City. This network of underground tunnels served as a base of operations during the Vietnam War and is now open to tourists who want to explore its history.
Visitors can crawl through the tunnels and view artifacts from the war era, such as bunkers and weapons. There are also museums located nearby that explain more about this period in Vietnam's history.
Food lovers should not miss out on trying some of the local street food while they're in town. Sample local dishes, like pho (noodle soup), banh mi (a sandwich made with pork, pickled vegetables, and herbs), or cha gio (spring rolls).
Furthermore, don't forget to try some delicious Vietnamese coffee – it's sure to give you an extra boost after all those sightseeing adventures!
Whether seeking adventure, relaxation or cultural immersion, Ho Chi Minh City has plenty of options for tourist attractions and activities that won't disappoint.
With so much offered within its limits, visitors can easily design their own unique trip itinerary that suits their individual interests and desires perfectly.
Frequently Asked Questions
What Is The Best Time Of Year To Visit Ho Chi Minh City?
Visiting Ho Chi Minh City is like taking a dive into an ocean of adventure and culture. From the vibrant street life to the french colonial architecture to French architecture, there's always something new to explore. But when it comes to deciding on the best time to visit this bustling metropolis, what should you consider?
The climate in Ho Chi Minh City can be hot and humid all year round, with temperatures ranging from 22°C (71°F) to 35°C (95°F). The rainy season usually runs from May through October.
During these months, heavy downpours occur almost daily – so travelers may want to bring umbrellas or raincoats if they plan their trip for this period. On the flip side, the wet weather brings lush greenery that's not present during drier times of the year.
On the other hand, the dry season falls between November and April – often considered one of the most pleasant times of the year to enjoy a holiday in Ho Chi Minh City.
Although days are still warm compared to more temperate climates, evenings tend to cool off significantly, allowing visitors some respite from the heat. This is also peak travel season due to favorable conditions and holidays such as Christmas and New Year's Eve, which fall within this window – making prices higher than usual during this period.
No matter when you decide to go, there will always be plenty of attractions and experiences waiting for you across Ho Chi Minh City – giving every visitor a unique glimpse into Vietnam's rich history and culture!
How Safe Is Ho Chi Minh City For Tourists?
When it comes to traveling, safety is always a primary concern. How safe is Ho Chi Minh City for tourists? In short, the answer is yes – but visitors should take caution when exploring this bustling city.
Ho Chi Minh City features an abundance of attractions and activities that make it a popular destination for travelers from all around the world. Though there are some risks associated with traveling in such a large metropolis, most can be avoided by exercising common sense.
Tourists should familiarize themselves with local laws and customs to ensure they stay within legal boundaries while visiting. Additionally, avoiding suspicious people or unfamiliar areas at night can help keep you out of harm's way.
Overall, Ho Chi Minh City offers plenty of opportunities for exploration and adventure without compromising your safety. Sightseeing during daylight hours, keeping valuable items secured in hotel safes, and staying informed about current events are just some of the ways to maximize your security while abroad.
With its vibrant culture and rich history, this incredible city promises an unforgettable experience no matter what time of year you visit!
Are There Any Cultural Festivals Held In Ho Chi Minh City?
Are there any cultural festivals held in Ho Chi Minh City? This question is enough to spark the wanderlust of even the most seasoned adventurer.
A place known for its vibrant culture, this city is full of life and energy that can be felt by all who visit. From the bustling streets to the bright lights at night, it's hard not to get caught up in the excitement of it all.
The answer is a resounding yes! Every year, locals and tourists alike come together to celebrate their heritage through various events such as traditional music performances and interactive art workshops.
These festivals are an ode to Vietnamese culture that you won't want to miss out on. Not only will they give you insight into how these people live, but they also allow you to indulge in some delicious local cuisine while taking part in fun activities like dragon dancing or bamboo boat racing.
The best way to experience Ho Chi Minh City's unique atmosphere and spirit is during one of its many lively street celebrations. Whether it's Mardi Gras-like festivities happening along the waterfront or a festival dedicated entirely to lanterns, each event promises an unforgettable journey back in time with plenty of surprises thrown in too.
So if you're looking for something special from your trip then look no further than Ho Chi Minh City – where culture comes alive every day!
Is It Easy To Find Public Transportation In Ho Chi Minh City?
Finding public transportation in Ho Chi Minh City is easy. The city has an extensive and efficient network of buses, taxis, motorbikes, and other forms of transport that can get you where you need to go quickly and safely.
There's also a wide variety of options for getting around the city, including rideshares and bicycle-rental services.
The bus system in Ho Chi Minh City is one of the best ways to explore the area on a budget. Buses run frequently throughout most parts of the city, and tickets are relatively cheap compared to other forms of transportation.
Passengers can purchase tickets at designated ticket booths or use their smartphones with certain apps such as Grab or Beeline. Additionally, there are several different types of buses available depending on your needs – from express routes to tourist buses, which have commentary about various sites along the route.
Taxis are another popular way to travel around Ho Chi Minh City if time isn't so much an issue. Like many cities, it's not uncommon to see metered cabs driving up and down main streets.
Taxis offer door-to-door service with rates based on distance traveled rather than time spent in transit – although some drivers do charge extra fees for peak hours or special trips outside the city limits. For those looking for more freedom while exploring, renting a motorbike is often seen as the preferred option by locals and tourists alike – just be sure to wear a helmet!
No matter what type of traveler you may be – whether seeking adventure or simply taking things slow – Ho Chi Minh City offers plenty of options when it comes to finding reliable public transportation within its bustling metropolitan landscape.
From hopping aboard a bus or catching a taxi ride across town to zipping through traffic on a rented motorcycle, there's something here for everyone who wants to experience all this incredible city has to offer without having to worry too much about how they'll get around town!
Our Lasting Impressions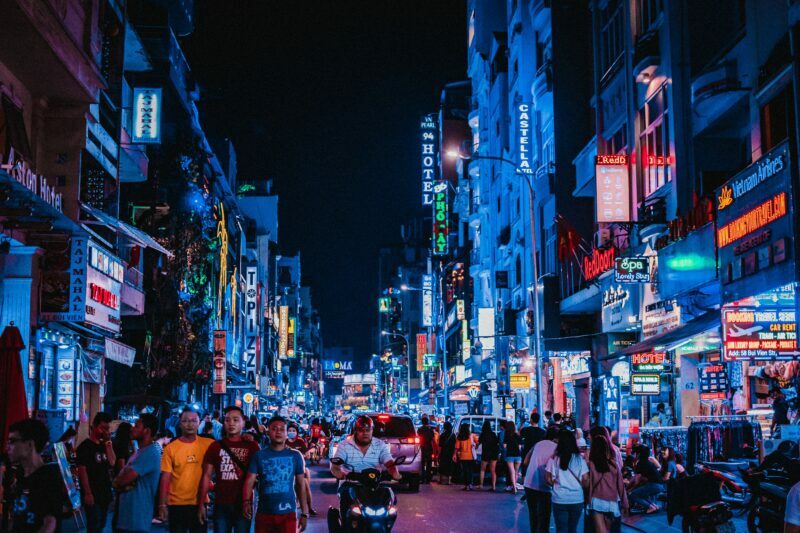 Visiting Ho Chi Minh City is an exciting experience. There's so much to see and do, and you'll find that the city has something for everyone! The best time to visit is during the dry season, from December through April, when temperatures are pleasant and there are plenty of cultural festivals happening throughout the year.
It's also a safe place for tourists, with easy access to public transportation and discounts available at many attractions.
For those interested in history and culture, there's no better way to explore than by visiting some of Ho Chi Minh City's top attractions. From its war-time monuments to its bustling markets, it will be sure to leave a lasting impression on anyone who visits.
As the adage goes, "The world is a book, and those who don't travel only read one page," so go out and discover what this vibrant city has to offer!
Ho Chi Minh City truly lives up to its reputation as one of Vietnam's most popular tourist destinations – you won't regret your decision if you spend some time here!
With so much to explore and experience, I'm confident that your trip will be full of unforgettable memories that you'll cherish forever. So why not give it a try? You won't regret it!