So you may have already been to one of the 5 best Ho Chi Minh City Girly Bars, But what else does nightlife in Ho Chi Minh City have to offer? Especially as you may have a hangover, or perhaps you are with the Mrs, or even better, you have gotten yourself a date with a hot Vietnamese girl. So lets look at what else can you do other than visit Bar 22?
Ho Chi Minh is the largest city in Vietnam, full of nightclubs, cocktail bars, casinos, fresh beer corners, and cultural shows and activities. You're in the right place if you want to relax after a busy day of sightseeing or partying until the next morning!
Find out what to do and where to go first with our Ho Chi Minh City nightlife guide!
Spending the night on a rooftop bar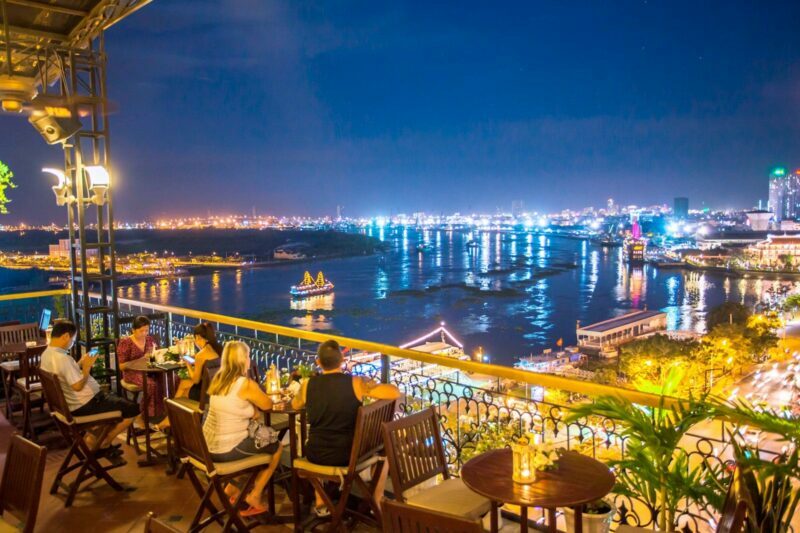 Rooftop bars in Ho Chi Minh City are one of the perfect tourist sites in Saigon since they draw many tourists with their views of the entire city when it is lit up at night. It is worth your time to visit the most popular Saigon rooftop bars in Ho Chi Minh so that you can relax with a drink in your hand and take in the breathtaking views of the city after dark.
Recommended rooftop bars in Ho Chi Minh City:
EON Heli Bar: 52nd floor of Bitexco Tower
Rooftop Pool Bar: 24th floor of Hotel Des Arts Saigon
Glow SkyBar: 13th Floor of President Place Building
Immersing yourself in a nightclub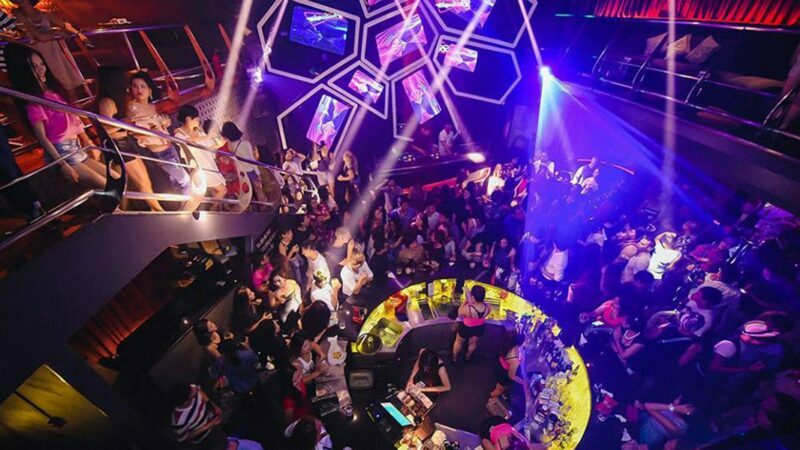 When it comes to nightclubs, Ho Chi Minh City does not disappoint. Most nightclubs are open until the early morning, so if you want to party all night long, this is the place to be. The hip-hop music is always pumping, the drinks are flowing, and the energy is electric. If you want to let loose and have some fun, then a nightclub is the perfect place to do it. Just be prepared to dance your heart out because that's what everyone else will be doing too!
Recommended nightclubs in Ho Chi Minh City:
Sax n' Art Jazz Club: No 28 Le Loi Street, Ben Nghe, District 1
Hard Rock Cafe: MPlaza Saigon, Le Duan Street – Hai Ba Trung Street, District 1 – Now closed 🙁
Lush Nightclub: 02 Ly Tu Trong, District 1
Try your luck at a casino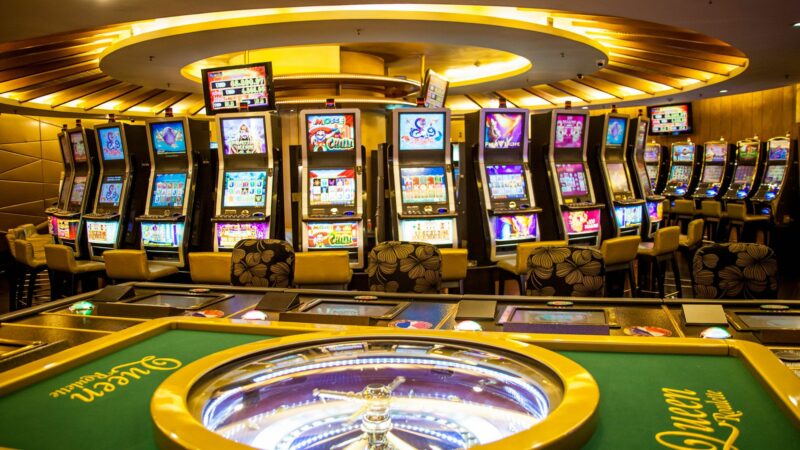 Most casinos in Saigon are called "Gaming Centers," and they are not like casinos in Las Vegas. In Saigon, visitors can choose to play various card games, including poker, on one of the many computer screens set up specifically for this purpose. Gamble on the machine makes the chance of winning a bit riskier, but the experience is enjoyable. There are some casinos where you can also enjoy some free drinks.
Recommended casinos in Ho Chi Minh City:
Vegas Club Casino: Located in Caravelle Hotel
Palazzo Club: Located in Sheraton Saigon Hotel and Towers
Cruise Along The Saigon River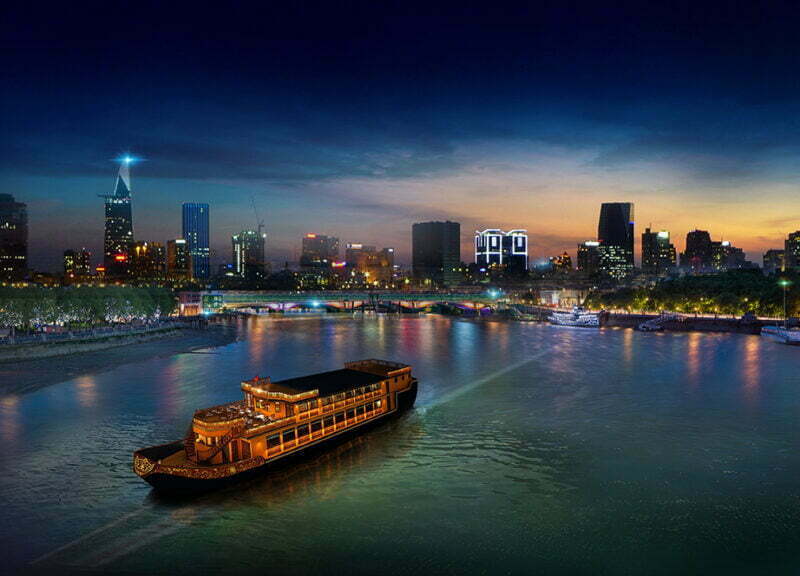 The Saigon River in Ho Chi Minh City is an attraction that all tourists should check out while in the city. Modern buildings and small towns live on either side of the river. For a first-time visitor, the best way to see the beauty of the whole city is to take a cruise along the river accompanied by traditional music and traditional Vietnamese dance.
Watch Night Art Performances at Saigon Opera House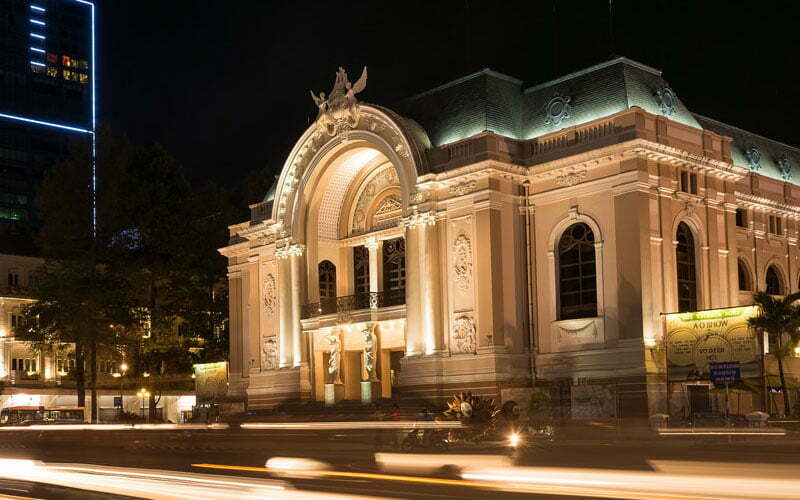 Suppose you are looking for a more cultural experience in Ho Chi Minh City during your night. In that case, you should consider checking out one of the many art performances at the Saigon Opera House. This old opera house hosts various cultural events, such as traditional Vietnamese opera, ballet, western-style plays, and musicals.
Walking along Nguyen Hue Street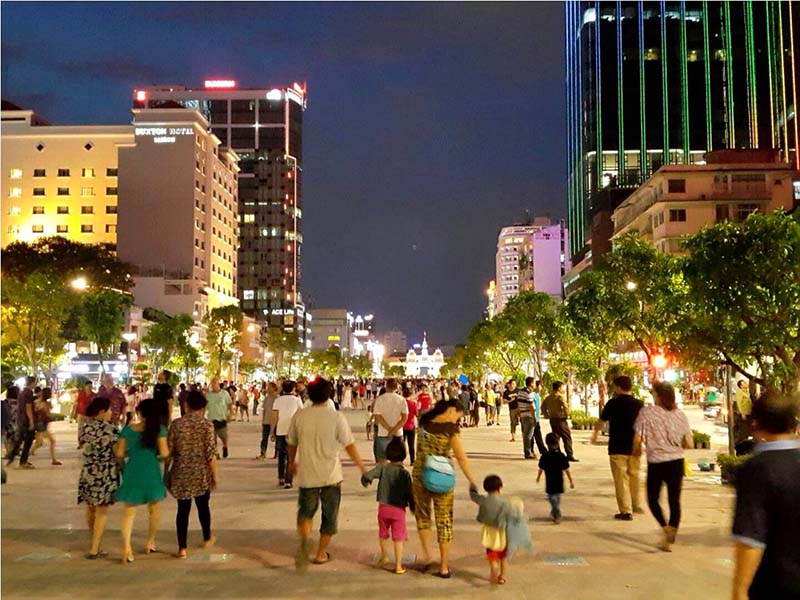 When it's all lit up at night, Nguyen Hue walking Street is one of the most beautiful places in Ho Chi Minh City. The street is full of both local Vietnamese and tourists who come to enjoy the many cafes, restaurants, clubs, and bars it has to offer. Every weekend night, young people gather all along the street to talk and play music. If you love music and want to be a part of this young, lively place, you can join them and either dance hip-hop or listen to great live music on the street. Nguyen Hue has a lot of street food stalls. They sell mixed rice papers, baked rice papers, ice cream, bingsu, peach tea, and matcha.
Besides Nguyen Hue Street, you can also relax at Bui Vien Street. Bui Vien Street is also famous for foreigners' nightlife in Ho Chi Minh City.
Visit Pham Ngu Lao Street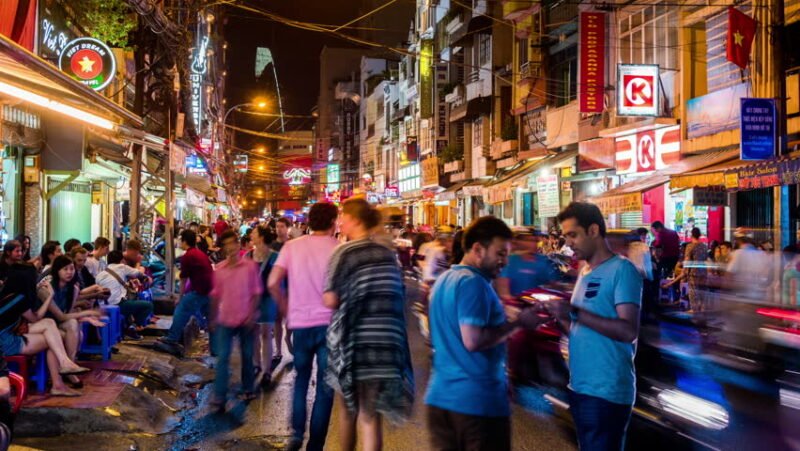 Pham Ngu Lao Street is a lively backpacker street of Ho Chi Minh City and comes alive at night. Cheap cafes, restaurants, bars, and souvenir shops are open late into the night, and this is a favorite haunt of locals and tourists alike. The street is also close to attractions such as the Reunification Palace and the Notre Dame Cathedral, making it a convenient place to stay for those who want to be close to the action.
Shopping at Ben Thanh Night market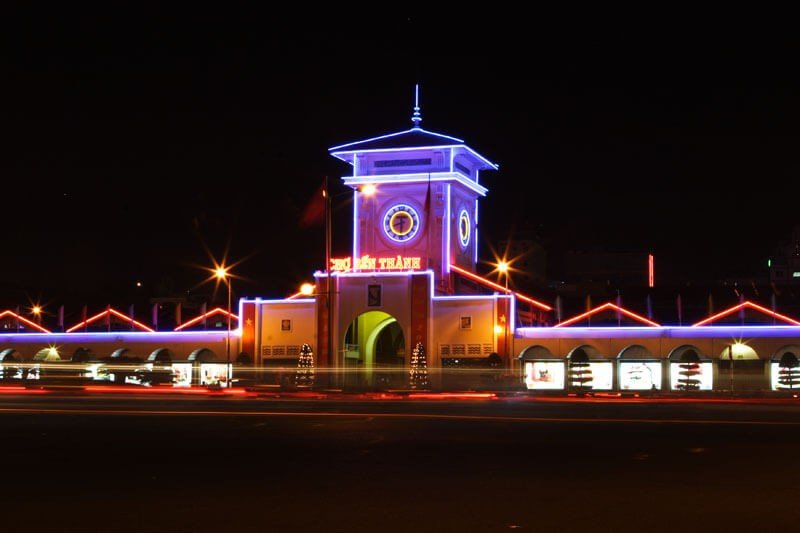 The Ben Thanh night market is one of the must-visit places in Ho Chi Minh City, especially for those who love to shop. The market is open every day from 6 pm to 10 pm and is located in the heart of the city near Ho Chi Minh's iconic central market. You can find a wide variety of items for sale at the night market, including clothes, souvenirs, and local handicrafts. bargaining is expected, so be sure to brush up on your negotiation skills before heading out to the market!
Conclusion
No matter your preferences, Ho Chi Minh City has something to offer when it comes to nightlife. From casinos and nightclubs to river cruises and art performances, you will find plenty of ways to enjoy your evenings in this vibrant city.