The national dress of Vietnam, the áo dài, is one of the most beautiful things about the country. Over hundreds of years, the áo dài has changed with Vietnam. It has gone from being royal to be practical, simple to fashionable, and back again. The Vietnamese áo dài is liked by both young and old people, and both men and women look good in its elegant lines. Read on to learn more about the history of áo dài and how to make one yourself.

The history of áo dài, traditional clothes from Vietnam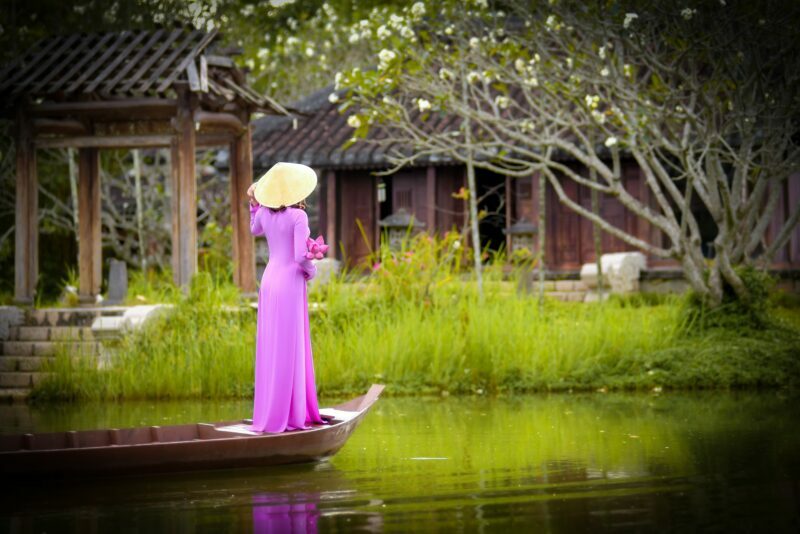 In 1744, Vietnam was split into the Inner Land (àng Trong) and the Outer Land (àng Ngoài). This is where the story of the áo dài begins. Lord Nguyn Phc Khoát of Inner Land wanted his people to stand out, so he told them to wear a dress with a front button and pants. The modern áo dài was based on this five-part dress, a áo ng than. Dresses worn by royals and other high-ranking people were made of the best silk and had lots of intricate details and bright colors to show their status in court.
In the 1930s, Vietnamese artist Le Mur Nguyn Cát Tng broke the dress down into two parts. The front flap was made longer to reach the ankle, and the shape got tighter. As with many ideas that have been "Westernized," the style was at first met with reluctance. But after Le Mur made a collection of áo dài dresses for Queen Nam Phng, who was married to Vietnam's last emperor, Bo I, urban women started to wear and like the more modern style.
Why the áo dài is now used for Special Occasions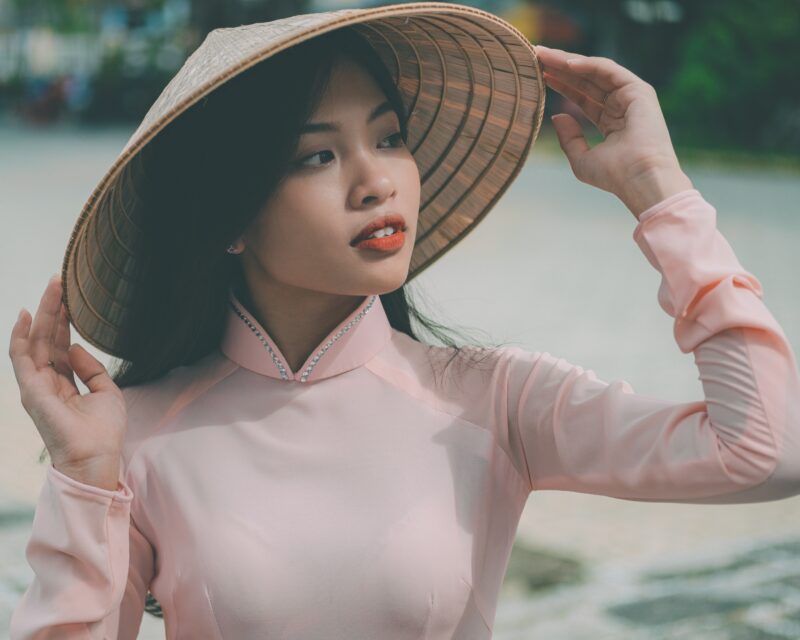 After the Democratic Republic of Vietnam was made, Ho Chi Minh wrote an essay in 1947 saying that the áo dài wasn't suitable for the fields or factories. He asked the Vietnamese to change their clothes so they could work better. So, the áo dài became a dress only worn to work and on special occasions. Today, girls in high schools all over the country must wear clothing at least once a week. Vietnamese songs, poems, and paintings have been based on the idea of girls in white áo dài riding their bikes to school. Women of all ages also wear the áo dài when they want to make a good impression.
TIP: The Vietnamese Women's Museum in Hanoi has a permanent collection of áo dài dresses that you can look at and discover more about the history of the dress and the different styles over this period.
Traditional áo dài dress in Vietnam has constantly been updated.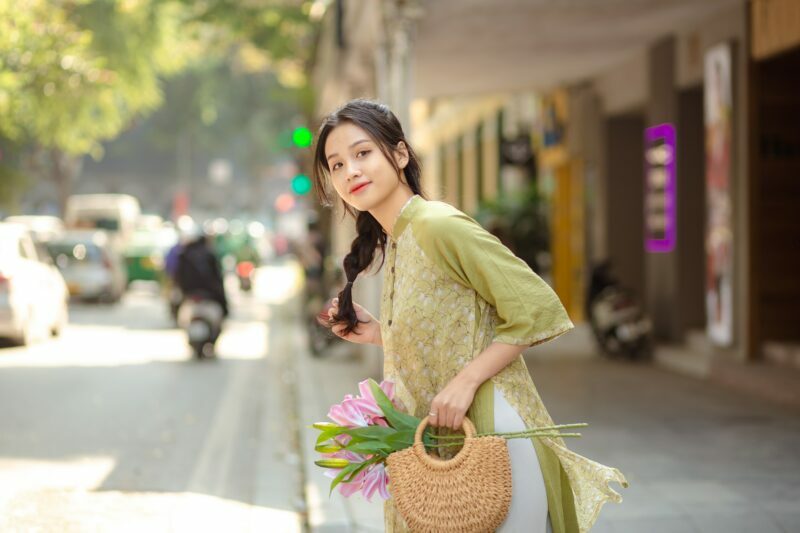 Modern designers aren't afraid to try new things in áo dài, like a boat neck, a cropped length, or short sleeves. Some of these new versions of traditional clothes make them more valuable, so they can be worn in less formal settings. Styles that end at the knee are easy to wear on motorcycles and bicycles, and in the summer, people wear collars like scoop necks and boat necks that are more casual.
When to wear áo dài ao dai vietnam?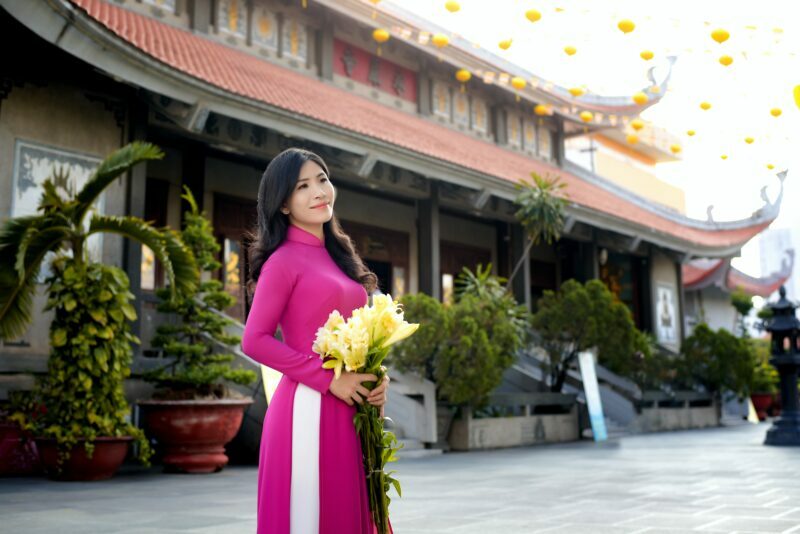 Vietnamese women love to wear áo dài to beautiful places for photo shoots. On golden autumn days in Hanoi, people gather around Hoàn Kim Lake to take pictures. During Tt, which is the Lunar New Year, women wear dresses to visit friends and family and pay respects at temples and shrines. The best time to wear a áo dài is at a wedding. At the traditional wedding ceremony in Vietnam, the bride, groom, and their wedding party all wear elaborate áo dài. At the reception, guests wear simpler but still colorful designs.
Watch the movie "The Tailor," about a áo dài design house in the city of Ho Chi Minh. This will give you an idea of how vital áo dài is in Vietnamese fashion. The movie was Vietnam's official entry for Best Foreign Language Film in 2018 at the academy awards.
o dài is used to color traditional Vietnamese clothes.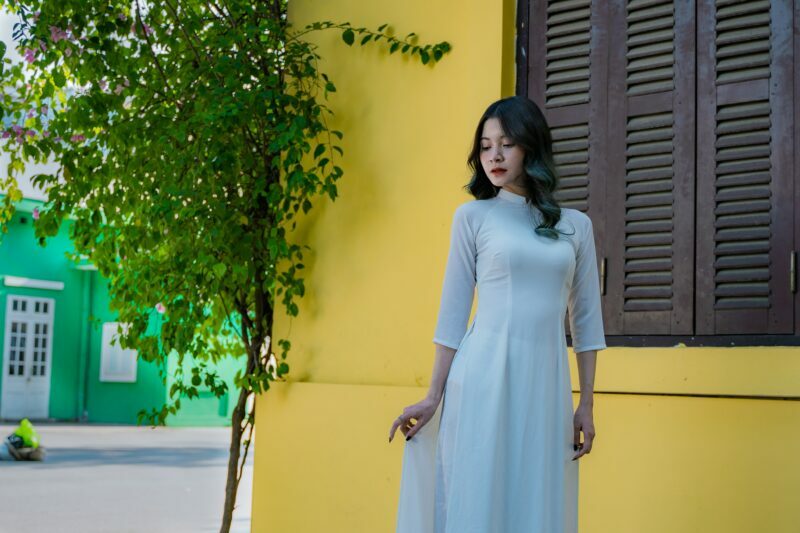 Each color on a áo dài means something different. During the time of the Empire, gold was a royal color that only kings and queens could wear. During Tt, people wear red áo dài to bring luck and good fortune. On their wedding day, brides and grooms may also wear red, so if you're a guest, it's best to wear a different color. Like the white dresses worn by high school girls, white is a sign of purity and innocence, while black is usually worn to funerals. Vietnamese women also choose their áo dài colors based on their element and the year they were born (metal, wood, water, fire, or earth).
Making your own traditional áo dài clothes from Vietnam
The áo dài is a way for anyone to show respect. The áo dài can be worn to fancy dinners, important meetings, and parties. Just make sure to always wear it over pants or trousers. If you are looking for ready-to-wear áo dài, there are many shops in the Old Quarter of Hanoi and the Ancient Town of Hoi An. Also, for those who find Vietnamese girls particularly sexy wearing Ao Dai, come to our Sexy Ao Dai Tet Party In Ho Chi Minh City!